Airport Shuttle Services
Whether you're embarking on a two-week vacation to the Bahamas or flying to Cincinnati for a sales conference, there are inherent stresses and headaches that are just a part of long-distance travel. After you've carefully packed your bags, planned your itinerary, and collected all of your important travel documents, the last thing you want to have to do is drive your own vehicle through heavy traffic to the airport on your own and shell out hefty amounts of cash for high parking rates. The prospect of dealing with bulky luggage and crowded check-in queues is stressful enough—don't add the headaches of parking garages and traffic jams to your list. Instead, call Rye Brook Airport Services for affordable, hassle-free airport shuttle services. Our airport shuttle service is incredibly convenient and punctual, and unlike expensive airport limo services, its economical and practical design will save you loads of money. So whether you need to be picked up or dropped off, you can count on our airport transportation service for the punctuality and reliability you deserve. Call Rye Brook Airport Services today!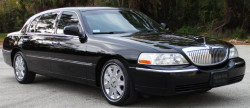 Since 1979, our family has been providing local residents and businesses with comfortable and stylish airport car services at a fraction of the cost of a lavish airport limo service. We'll arrive on time, if not early, at your home, business, or airport arrivals gate in a black Lincoln Town Car. At Rye Brook Airport Services, our team of fully licensed and insured drivers is here to make your airport transportation service as quick and convenient as possible, which is why we don't even bother offering a specific airport limo service. Limousines are notorious gas-guzzlers, and they're difficult to maneuver in regular spaces alone, never mind the winding roadways surrounding most major airports. Instead, we save you time, money, and hassle by transporting you and your luggage in a classy yet practical town car. With a sleek exterior and plush seats, our airport car services will help you arrive in style and comfort without any of the added cost.
Our airport shuttle service is also great for transporting you to other transit locations, as well. You can call Rye Brook Airport Services if you need transportation to and from any of these locations:
JFK International Airport (JFK)
LaGuardia Airport (LGA)
Newark Airport (EWR)
White Plains Airport/Westchester County Airport (HPN)
Teterboro Station (NJT)
Penn Station (NYP)
Grand Central Terminal (GCT)
Say goodbye to the headaches and frustrations of travel with the help of Rye Brook Airport Services. Our airport shuttle services will provide you with all of the comfort and convenience you need to get to and from the airport or train station without any added effort on your part, so you'll be able to relax and enjoy the ride. Don't waste your hard-earned cash on impractical airport limo services when you can travel in a stylish, comfortable Lincoln Town Car at a much more reasonable rate. To make a reservation for our affordable and dependable airport transportation service, contact us by phone or e-mail today!
airport shuttle
airport limousine service
airport limo service
airport transportation service